Vijayasar (Indian Kino Tree)
Pterocarpus marsupium Roxb. (Leguminosae)
Synonym : Lingoum marsupium (Roxb.) Kuntze
Vernacular name : Indian Kino Tree, Malabar kino tree (English); Vijayasar, Beeja patta (Hindi).
Description : A deciduous tree, up to 30 m tall; bark 10-15 mm, surface grey or greyish-black, rough, deeply vertically cracked, exfoliations small, irregular, fibrous; blaze pink; exudation blood-red; leaves are compound, alternate; stipules small, lateral, falling off; leaflets 5-7, alternate, estipulate; leaflet-stalk 6-10 mm, slender, hairless; blade 3-12 × 2-7 cm, elliptic-oblong, oblong-ovate or oblong, base blunt or pointed, tip blunt and notched, margin entire, hairless, leathery; lateral nerves 9-20 pairs, parallel, prominent; flowers are bisexual, yellow, at branch-ends and in leaf-axils, borne in panicles; 1-2 cm long; bracts small, dioecious; bracteoles 2, falling off; sepal tube bell-shaped, sepals short, the upper 2 often fused; flowers are protruding; petals 5, all long-clawed, crisped along the margins; standard round, wings oblique, obovate, eard; keel petals oblique, small, slightly fused; stamens 10; fruit pod, 2-5 cm across, round-kidney-shaped, broadly winged; seed one, somewhat kidney-shaped.
Distribution : Native to India, Nepal, and Sri Lanka.
Part used : Heartwood, leaves, flowers.
Phytochemistry : Plant contains pterosupin, pterostilbene, liquirtigenin, isoliquiritigenin, stilbene, catechin, epicatechin, epicatechin, kinoin, kinotannic acid, kino-red, beta-eudesmol, carsupin, marsupol and marsupinol.
Uses : Stem decoction is used in skin disorders, diabetes, anaemia, diarrhea, intestinal parasite, joint pain; stem decoction with honey is used in obesity.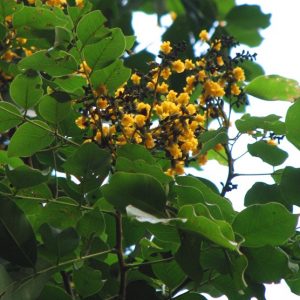 *****