Holy basil (Tulasi)
Ocimum tenuiflorum L. (Lamiaceae)
Synonym : Ocimum sanctum L.
Vernacular Name : Surasah, Tulasi (Sanskrit/ Hindi); Holy basil, Sacred basil (English).
Description : An erect much branched softly pubescent undershrub, 30-60 cm high with red or purple subquadrangular branches; leaves simple, opposite, elliptic, oblong, obtuse or acute, entire, serrate or dentate, pubescent on both sides, minutely gland dotted, petioles slender, hairy; flowers purplish in elongate racemes in close whorls, stamens exserted, upper pair with a small bearded appendage at the base; fruits nutlets, smooth, not mucilaginous when wetted.
Distribution : Native to the Indian subcontinent; widespread throughout the Southeast Asian tropics.
Parts Used :  Whole plant.
Phytochemistry : Plant contains essential oil (eugenol, urosolic acid, carvacrol, linalool, caryophyllene, estragole, rosemarinic acid), apigenin, cirsimaritin, vicenin, orientin, isothymusin and isothymonin.
Uses : Plant is useful in cardiopathy, haemopathy, leucoderma, asthma, bronchitis, catarrhal fever, otalgia, hepatopathy, vomiting, lumbago, hiccough, ophthalmia, gastropathy in children, genito-urinary disorders, ringworm, verminosis and skin diseases.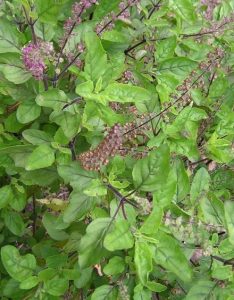 *****