Field mint (Pudina)
Mentha arvensis L. (Lamiaceae)
Synonym : Mentha parietariifolia Becker ex Steud.
Vernacular Name : Field mint, Japanese pepperming (English); Podina, Pudina (Hindi).
Description : Perennial herb, 30-50 cm high; stems quadrangular, erect or prostrate, rooting at the nodes; leaves opposite, ovate, softly tomentose on both sides; margins serrate, inflorescence in axillary capitates whorl; flowers small, white or lilac.
Distribution : Native to the temperate regions of Europe and Asia; distributed to eastern Siberia, and North America.
Parts Used : Whole plant.
Phytochemistry : Plant contains menthol, menthone, isomenthone, neomenthol, limonene, methyl acetate, piperitone, beta-caryophyllene, alpha-pinene, beta-pinene, tannins and flavonoids.
Uses :  Plant is used in gastric trouble, bacterial infections and gall bladder problems; oil is effective in adiaphoretic fever, headache, rhinitis, cough sore throat, arthralgia, neuralgia colic, vomiting, dyspepsia, diarrhoea and prurigo.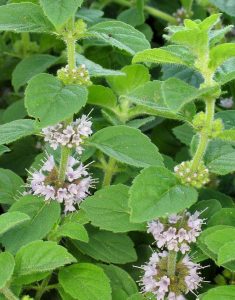 *****