Ashy Roylea (Karui)
Roylea cinerea (D.Don) Baill. (Lamiaceae)
Synonym : Roylea elegans Wall. ex Benth.
Vernacular Name : Ashy Roylea (English); Kararoi tilapati, patkarru, titpatti, Karui (Hindi).
Description : An evergreen, erect or scandent, aromatic shrubs; stem branched, grey or pale-tomentose, 0.5-3 cm high; leaves ovate-cordate, 1-4 x1-3 cm, coarsely toothed, gland-dotted and wooly beneath; petioles 1-3 cm long; flowers white or creamish, tinged pink, in axillary, dense verticillasters ; bracts subulate, 3-4mm long; calyx 1-2 cm long, hairy, prominently 10-veined; lobes 5, oblong-obtuse, equal to the corolla tube; corolla white, tinge pink, about 1 cm long, scarcely longer than calyx, 2-lipped; upper lip hood like, erect; lower 3-lobed, mid one largest; stamens 4, in unequal pairs; nutlets oblong, smooth.
Distribution : Native to India, Nepal and other nearby areas.
Part used : Aerial parts.  
Phytochemistry : Leaves contain moronic acid, 1,4-dihydroxy-6,7-dimethoxy 2-methyl 3-O- beta-D-glucopyranoside and quercetin 3-O-beta-L-rhamnoside; aerial parts contain cinereanoid A-B, calyone, pilloin, 1-methylindole-3-carboxaldehyde, stigmasterol, beta-sitosterol, calyenone, epicalyone, calyone, precalyone, pentacosane, octacosanol, friedelin, beta-amyrin, betulin, betulonic acid, n-tricontane, cetyl alcohol, beta-sitosterol-beta -D-glucoside, 5,6,7,4′-tetramethoxyflavone, tricontane and coleon A; roots contain 3-beta-hydroxyolean-12-en-28-oic acid.
Uses : Areal parts are used in malaria fever, stomachache, diabetes, skin disorders and bacterial infections.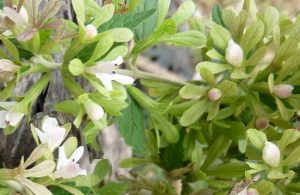 *****