Banyan tree (Bargad)
Ficus benghalensis L. (Moraceae)

Vernacular Name: Nyagrdhan/ Vatah (Sanskrit); Vat/ Bargad (Hindi); Banyan tree (English)
Description: A very large tree upto 30 m in height with widely spreading branches bearing many aerial roots functioning as prop roots, bark greenish white, leaves simple, alternate often in clusters at ends of branches, stipulate, 10-20 cm long and 5-12.5 cm broad, broadly elliptic to ovate, entire, coriaceous, strongly 3-7 ribbed from the base; the fruit receptacles are axillary, sessile, in pairs, globose, brick-red when ripe, enclosing male, female and fall flowers; fruits small, crustaceous achenes, enclosed in the common fleshy receptacles.
Distribution: Native to the Indian Subcontinent.
Parts Used: Aerial root, bark, leaves, buds, fruits.
Phytochemistry: Bangalenoside, leucocyanidin 3-O-β-D-galactosyl cellobioside 5,3'-dimethyl ether and leucopelargonidin-3-O-α-L-rhamnoside 5,7-dimethyl ether, leucopelargonidin glycoside leucocyanidin glycoside.
Uses: Aerial roots are useful in obstinate vomiting, leucorrhoea and osteomalacia of the limbs; bark is useful in burning sensation, haemoptysis, haemorrhages, diarrhoea, dysentery, diabetes, enuresis, ulcer skin diseases, gonorrhea, leucorrhoea and hyperdipsia; leaves are good for ulcer, leprosy, allergic conditions of skin, burning sensation and abscesses; latex is useful in neuralgia, rheumatism, lumbago, bruises, nasitis, ulorrhagia, ulitis, odontopathy, haemorrhoids, gonorrhea, inflammations, crack of the sole and skin diseases.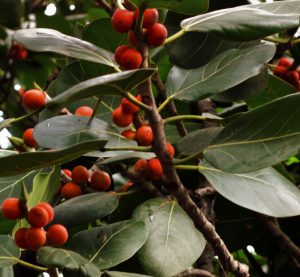 *****