Beechwood (Gambhari)
Gmelina arborea Roxb. (Lamiaceae)
Synonym : Gmelina sinuata Link
Vernacular Name : Gumbhar, Kumbhar, Shivparni (Hindi); Gambhari, Gandhari (Sanskrit); White teak, Beechwood (English).
Description : Deciduous tree up to 15 m high grayish-brown bark, exfoliating in scrubby flakes; leaves 9-23 × 7-15 cm, opposite, broadly ovate-cordate, glandular at base, acuminate, entire, finely tomentose and glaucous beneath; flowers 2-3 cm across, reddish- brown or yellow, appearing with the leaves, arranged in tomentose panicles; drupes 1-3 cm, ovoid or pyriform, orange-yellow when ripe.
Distribution : Naturally occurring in India, Myanmar, Thailand, Laos, Cambodia, Vietnam, and China; planted extensively in Sierra Leone, Nigeria, and Malaysia.
Part Used : Whole plant.
Phytochemistry : Heartwood contains 6"-bromo-isoarboreol, 4-hydroxysesamin, 4,8-dihydroxysesamin, gummadiol, 2-piperonyl-3-hydroxymethyl-4-(alpha-hydroxy-3,4-methylenedioxybenzyl)-4-hydroxytetrahydrofuran, epigummadiol 4-O-glucoside, arboreol, (+)-7′-O-ethyl arboreol, (+)-paulownin, (+)-gmelinol, (+)-epieudesmin and beta-sitosterol; root contains umbelliferone 7-apiosylglucoside.
Uses : Fruit and bark have medicinal properties against bilious fever; roots have great medicinal value as a blood purifier, laxative, stomachic, tonic and as an antidote to poisons; leaf sap is used as a demulcent to treat gonorrhoea and cough, and is also applied to wounds and ulcers; flowers have been used to treat leprosy and blood diseases.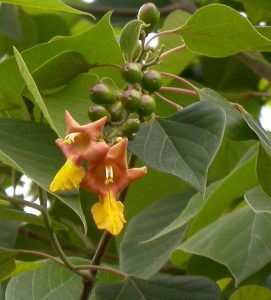 *****