Calamus (Sweet flag)
Acorus calamus L. (Acoraceae)

Synonym : Calamus aromaticus Garsault
Vernacular Name : Vacha, Ugragandha (Sanskrit); Bach, Garbacc (Hindi); Sweet flag, Calamus (English)   
Description : Semi-aquatic rhizomatous perennial herb; rhizome creeping, much branched, as thick as the middle finger, cylindrical of slightly compressed, light brown or pinkish brown; leaves bright green, distichous, ensiform, based equitant, thickened in the middle, margins wavy; flowers light brown densely packed in sessile cylindric spadix; fruits oblong turbinate with a pyramidal top; seeds free, pendant from the apex of the cell.
Distribution : Native to India, central Asia, southern Russia and Siberia, and Eastern Europe; also grows in China and Japan; introduced into Western Europe and North America.
Parts Used :  Rhizomes.
Phytochemistry : Volatile oil (Calamus oil); asarone and its β-isomer; calamine, calamenone, methyleugenol, eugenol  and  α-pinene, camphene, palmitic acid, butyric acids, asaronaldehyde, calamol, azulene, acorone, calarene, calacone, calacorene, acorenone, acolamone, isoacolamone, epishyobunone, shyobunone, isoshyobunone, acoragemacrone, isocalamendiol and preisocalamendiol.
Uses : Rhizome used as intellect promoting, emetic, laxative, carminative, stomachache, ammenagogue, diuretic, alexeteric, expectorant, anodyne, antispasmodic, aphrodisiac, anticonvulsant, resuscitative, anti-inflammatory, sudorific, antipyretic, sialagogue, insecticidal, tranquillising, nervine tonic, sedative and tonic.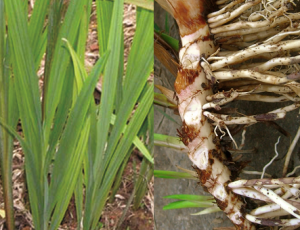 *****