Coriander (Chinese parsley)
Coriandrum sativum L. (Apiaceae)
Synonym : Coriandrum globosum Salisb.
Vernacular name : Dhanyakam, Dhanaka (Sanskrit); Coriander, Cilantro, Chinese parsley (English); Dhaniya (Hindi).
Description : An annual herb, glabrous, aromatic, herbaceous, 30-90 cm in height; leaves decompounds, lower ones long-petioled and upper ones short petioled or sub-sessile, imparipinnatisect into linear-setaceous lobes; flower small, white or pinkish purple in compound terminal umbels; fruits yellowish brown, globular and ribbed separating into two halves (mericarps) each containing a seed.
Distribution : Native to Italy; cultivated in various Mediterranean, European and Asian countries.
Part used : Seeds, leaves
Phytochemistry : Essential oil (linalool, linalyl acetate, thymol, β-caryphyllene, α-pinene, borneol, limonene, β-phellandrene, citranellol, 1,8-cineole and geranyl acetate); fatty acids, terpenoid glycosides, coumarins and polyphenols.
Uses : Plant has been used for cough, vomiting, diarrhea, dysentery, fever and various inflammatory conditions; fresh green leaves are widely featured in the cuisines; leaves possess a unique aroma and are used as food flavoring agent; dried seeds are added to dishes as an aromatic spice, and considered as digestive agent; extracts and essential oil obtained from the plant showed antimicrobial, antioxidant, antidiabetic, anticancer, antihypertensive, diuretic and anti-mutagenic activities.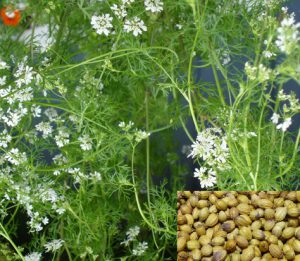 *****