Cumin (Zeera)
Cuminum cyminum L. (Apiaceae)
Synonym : Cuminum sativum J.Sm.
Vernacular Name : Cumin (English); Jiraka, Jira (Sanskrit); Zeera (Hindi).
Description : An annual herb grows to 30-50 cm tall; slender, glabrous, branched stem that is 20-30 cm tall and has a diameter of 3-5 cm; each branch has two to three sub-branches; all the branches attain the same height; stem is coloured grey or dark green; leaves are 5-10 cm long, pinnate or bipinnate, with thread-like leaflets; flowers are small, white or pink, and borne in umbels; each umbel has five to seven umbellts; fruit is a lateral fusiform or ovoid achene 4-5 mm long, containing two mericarps with a single seed; seeds have eight ridges with oil canals, oblong in shape, longitudinally ridged, and yellow-brown in colour.
Distribution : Cultivated mainly in India and little in other countries, Northern Africa, and Latin America.
Part Used : Seeds.
Phytochemistry : Seeds contain an essential oil (with cuminaldehyde, cymene, sminaldehyde, 1,3-p-menthadien-7-al, 1,4-p-menthadien-7-al as major contents).
Uses : Oil used to flavour curries and other culinary preparations, confectionery, beverages, liqueurs and cordials; helps in digestion; dried cumin seeds are believed to have medicinal importance in mild digestive disorders, diarrhoea, dyspepsia, flatulence, morning sickness, colic, dyspeptic headache and bloating.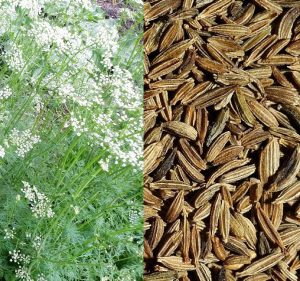 *****