Dwarf copperleaf (Sessile joyweed)
Alternanthera sessilis (L.) R.Br. ex DC. (Amaranthaceae)

Synonym : Gomphrena sessilis L.
Vernacular Name : Matsyaksi, Patturah (Sanskrit); Gudrisag (Hindi); Dwarf copperleaf, Sessile joyweed (English).
Description : Much branched prostrate herb, branches often purplish, frequently rooting at the lower nodes; leaves simple, opposite, somewhat fleshy, lanceolate, oblanceolate or linera-oblong, obtuse or subacute, sometimes obscurely denticulate, glabrous, shortly petiolate; flowers small, white, in axillary clusters; fruits compressed obcordate utricles; seeds suborbicular.
Distribution : Found throughout the tropical and subtropical regions of the Old World; introduced to United States.
Part used : Whole plant.
Phytochemistry : Aerial parts of the plant contain β-sitosterol, stgmasterol, campesterol, α-spinasterol, oleanolic acid rhamnoside, 24-methylene cycloartenol, cycloeucalenol, lupeol, 5- α stigmasta-7-enol and its palmitate.
Uses : Used in burning sensation, diarrhea, leprosy, skin disease, dyspepsia, haemorrhoids agalactia, splenomegaly and fever.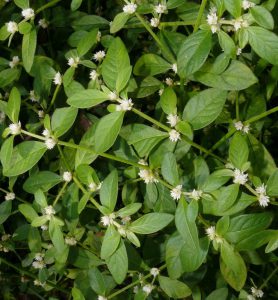 *****