Garcinia (Malabar tamarind)
Garcinia gummi-gutta (L.) Roxb. (Clusiaceae)
Synonym : Garcinia cambogia (Gaertn.) Desr.
Vernacular Name : Garcinia, Brindleberry, Malabar tamarind (English); Upage mara, Murugana huli, Kudam puli (Hindi).
Description : An evergreen, small or medium-sized tree, 5-20 m tall, rounded crown and horizontal or drooping branches; stem bark is dark and smooth; leaves opposite, petiolate, dark green, shining, 13-18 by 4-8 cm, elliptic to obovate, glabrous; petiole 1.2-2.2 cm; flowers in clusters of 4-20, usually red, rarely yellow; petals normally 4, each about 12 mm wide 11 mm long; anthers attached to a pistillode with a non-functional stigma; female flowers occur singly or in clusters of up to 4, stigmatic surface normally enlarged, no style; pistillate flowers have rudimentary and nonfunctional staminodes; fruit green, ovoid berry, 5 cm in diameter, yellow or red when ripe, with 6-8 grooves; seed 6-8, smooth, large, about 5 cm long and 2 cm wide surrounded by a succulent aril.
Distribution :  Native to India, Sri Lanka, Indonesia; grown in Thailand, Malaysia, Burma, and other Southeast Asian countries, and west and central Africa.
Part Used : Fruits.
Phytochemistry : Fruits contain hydroxycitric acid as a major constituent; other contents are garcinol, camboginol and cambogin.
Uses : Fruits rind is mainly known for weight loss, due to hydroxycitric acid, through appetite suppression and reducing the body's ability to form adipose tissue; used in gastric ulcers, diarrhoea, dysentery and high cholesterol level.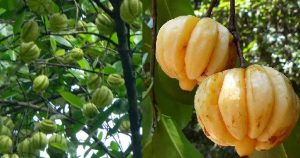 *****