Vasaka (Malabar nut)
Justicia adhatoda L. (Acanthaceae)
 Synonym : Adhatoda vasica Nees
Vernacular Name :  Vasa (Sanskrit); Adusa (Hindi); Malabar nut, Vasaka (English)
Description : Small evergreen and sub-herbaceous brush; leaves are 10-16 cm in length, minutely pubescent and broadly lanceolate; inflorescence dense, short pedunculate, bractate and spike terminal; corolla large and white with lower lip streaked purple and 4-seeded small capsule.
Distribution : Native to Asia includes Sri Lanka, Nepal, India, Pakistan, Indonesia, Malaysia, China and Panama.
Part Used : Whole plant
Phytochemistry : Leaves contain essential oil, vasicine, N-oxides of vasicine, vasicinone, deoxyvasicine, maiontone; roots contain vasicinolons, vasicol, peganine and 2'-glucosyl-oxychalcone; flowers contain beta-sitosterol-D-glucoside, kaempferol, kaempferol glycosides and quercetin.    
Uses : Leaf extract used in bronchitis asthma; relieves cough and breathlessness; bleeding due to idiopathic thrombocytopenic purpura, local bleeding due to peptic ulcer, piles, and menorrhagia; fresh leaf juice used in tuberculosis; leaf extract used for pyorrhea and bleeding gums.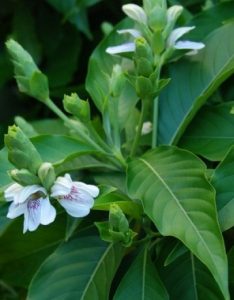 *****