Indian barnyard millet (Jhangora)
Echinochloa frumentacea Link (Poaceae)
Synonym : Echinochloa crus-galli var. edulis Honda
Vernacular Name : Indian barnyard millet, Sawa millet, Billion dollar grass, Japanese Millet (English); Jhangora, Vrat ke chawal (Hindi).
Description : An annual herb or shrub, erect, 1-2 m tall; leaf sheaths smooth and glabrous; leaf blades linear, soft, 15-40 × 1-3 cm, glabrous, margins thickened and wavy; inflorescence erect, lanceolate, 10-20 cm, axis robust, scabrous along edges and with tubercle-based hairs; racemes 1-3 cm, curved, simple, closely spaced and overlapping; spikelets greenish, tardily deciduous, plump, ovate-elliptic to rotund, 2-4 mm, pubescent to hispid, awnless; lower glume 1/3–2/5 as long as spikelet; upper glume slightly shorter than spikelet; lower lemma herbaceous, sterile; upper lemma 2-3 mm.
Distribution : Cultivated in Africa and Tropical Asia; widely grown as a cereal in India, Pakistan, Nepal, Japan and China.
Part used : Seeds
Phytochemistry : Seeds contain starch, fibre, protein, fatty acids, l-malic acid, trans-aconitic acid, (+)-isocitric acid, 5-O-caffeoylquinic acid, 4-O-caffeoylquinic acid, isocarlinoside, 2-O-rhamnosylisoorientin, 7-O-(2-O-glucuronosyl)-glucuronosyltricin, calcium, phosphorus and iron.
Uses : Seeds are useful in the treatment of stomachic, biliousness, constipation, bloating and diarrhoea; seeds are frequently used in diabetes and cardiovascular diseases.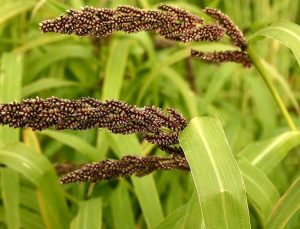 *****