Indian squill (Jungli piyaz)
Drimia indica (Roxb.) Jessop (Asparagaceae)
Synonym : Urginea indica (Roxb.) Kunth
Vernacular Name : Indian squill, White squill, Sea-onoin (English); Jungli piyaz, Ban piyaz (Hindi); Vanapalandu (Sanskrit).
Description : A glabrous herb; bulb dull white or pale, ovoid, 2.5-5 cm diameter or more; leaves radicle, flat, narrow pointed; flowers appearing before the leaves, drooping or spreading, distant in a terminal raceme, 15-50 cm long; perianth 10.8 cm long, bell shaped. 6-parted; segments white, with 3 green ribs in the center, tapering downwards; ovules several valved; seeds many, flat and black.
Distribution : Found in southern Africa, Indian subcontinent and Vietnam.
Parts Used : Bulbs.
Phytochemistry : Fresh squills contain glycosides, scillarin-A and scillarin-B, flavonoids, carbohydrates, glycoproteins, steroids, alkaloids, tannins, coumarins and saponins.
Uses : Bulb has anthelmintic, cardiac, stimulant, deobstruent, digestive, diuretic, emmenagogue, and expectorant properties; useful in asthma, ailments of hearts, calculous affections, cough and bronchitis, paralytic affection, promotes urination, in reheumatism and skin diseases; externally used for removing corns and warts; decoction of bulbs used in diabetes.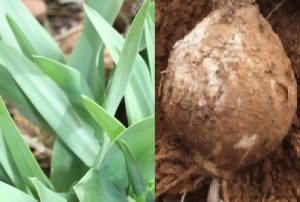 *****