Lavender (True Lavender)
Lavandula angustifolia Mill. (Lamiaceae)
Synonym : Lavandula officinalis Chaix
Vernacular name : Lavender, True Lavender, Garden Lavender (English)
Description : An evergreen shrub of 1-2 m high; leaves 2-5 cm x 4-5 mm in size; stem leafless upto 30 cm long; flowers small, pinkish-purple, on spikes at the top of slender.
Distribution : Native to Spain, France, Italy and Croatia; cultivated most of the part of Europe as an ornamental plant.
Part used : Leaves, flowers
Phytochemistry : Flowers contain essential oil (linalool, perillyl alcohol, linalyl acetate, cineole, camphor and borneol), tannins, coumarins, flavanoides, and ursolic acid.
Uses : Oil has stimulant, antidepressant, analgesic, antiseptic, nervine and vulnerary properties; used in anxiety, stress, hysteria, wounds, burns, nervous headache, rheumatoid arthritis and infections; oil also used in aroma therapy and perfumery; oil is believed to be a mild sedative, antispasmodic, and anti-gastric agent.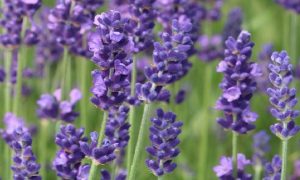 *****