Lawsone
Lawsone
IUPAC Name : 4-hydroxynaphthalene-1,2-dione
Chemistry : Lawsone (C10H6O3) also known as 2-Hydroxy-1,4-naphthoquinone is a red-orange natural pigment which is insoluble in water but soluble in most of the organic solvents. Its Molecular weight is calculated to 174.155 g/mol whereas the melting point is recorded to 192-195 °C. It reacts with keratin in skin and hair (via Michael addition), resulting in a permanent stain for a long time.
Occurrence : This molecule occurs in the leaves of Lawsonia inermis L. (henna) and the flower of Eichhornia crassipes (Mart.) Solms (water hyacinth).
Biological importance : Although, lawsone is mainly used as a dye or hair care agent but it also showed a variety of biological activities. It showed antibacterial and antifungal properties, eliminating and preventing Tinea pedis (athlete's foot) and Tinea manuum. In addition, lawsone also showed antioxidative activity, although anti-inflammatory activity was found to moderate. Various studies confirmed its immunostimulant and wound healing activities. It was also found to increase the white blood cell count whereas reduces the availability of biologically active trypsin, an enzyme essential to human and animal nutrition.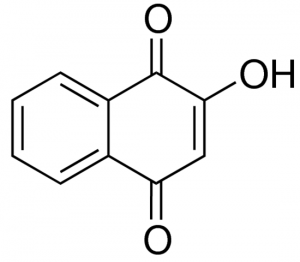 *****