Lion's tail (Wild cannabis)
Leonotis leonurus (L.) R.Br. (Lamiaceae)
 Synonym : Hemisodon leonurus (L.) Raf.
Vernacular Name : Lion's tail, Wild dagga, Wild cannabis (English).
Description: Shrub grows 1 to 2 m tall by 0.5 to 1 m wide; medium-dark green 5–10 cm long leaves are aromatic when crushed; tubular orange flowers in tiered whorls, typical to the mint family, that encircle the square stems; rise above the foliage mass during the summer season, with flowering continuing into winter in warmer climates.
Distribution : Native to South Africa and southern Africa; distributed to other tropical areas.
Part Used : Whole plant.
Phytochemistry : Plant contains leonurine,  leoleorin C-N, premarrubin, hispanolone, marrubiin, p-cymene, limonene, ocimene, terpenene, spathulenol, and caryophyllene.
Uses : Infusions made from flowers and seeds, leaves or stems are used to treat tuberculosis, jaundice, muscle cramps, high blood pressure, diabetes, viral hepatitis, dysentery, and diarrhea; leaves, roots and bark are used as an emetic for snakebite, bee and scorpion stings; fresh stem juice is used as an infusion drunk for blood impurity; smoke of the plant in the form of cigarettes used for intoxication.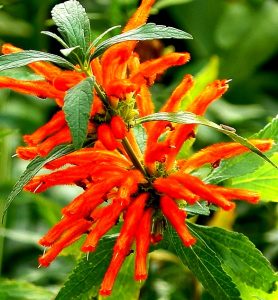 *****