Marking nut tree (Bhela)
Semecarpus anacardium L.f. (Anacardiaceae)
Synonym : Anacardium latifolium Lam.
Vernacular Name : Marking nut tree, Oriental cashew (English); Bhela, Bhilava (Hindi); Bhallatakah, Arusharah (Sanskrit).
Description : A medium sized to large tree, 15-25 m in height, with grey bark exfoliating in small irregular flakes; leaves simple, alternate, obovate-oblong, round at the apex, coriaceous, glabrous above and more or less pubescent beneath, main nerves 15-25 pairs; flowers greenish white, fascicled in pubescent panicles; fruits obliquely ovoid or obong drupes, 2.5 cm long, black when ripe, seated on a fleshy receptacle which is yellow when ripe.
Distribution : Native to India; found in Africa, Indo-Malesia, China and Australia.
Parts Used : Fruits and seeds.
Phytochemistry : Fruits contain bhilwanol, anacardoside, semecarpetin, nallaflavanone, jeediflavanone, semecarpuflavanone, galluflavanone, anacarduflavone, mono-olefin I, diolefin II, bhilawanol-A, bhilawanol-B, amentoflavone tetrahydroamentoflavone semicarpol, anacardic acid, tetrahydrobustaflavone, O-trimethyl biflavanone A1, O-trimethyl biflavanone A2, O-tetramethyl bifl avanone A1, O-hexamethyl bichalcone A, O-dimethyl biflavanone B, O-heptamethyl bichalcone B1, O-hexamethyl bichalcone B2 and O-tetramethyl biflavanone C; seed oil contains fatty acids.
Uses : Various parts of the plant are used in alimentary tract and certain dermatological conditions; useful in illnesses related to the heart, blood pressure, respiration, cancer and neurological disorders; used for improving sexual power and increasing sperm count, curing diseases related to digestive system; in Ayurveda, fruits and seeds used for skin diseases, tumors, malignant growths, fevers, haemoptysis, excessive menstruation, vaginal discharge, deficient lactation, constipation, and intestinal parasites.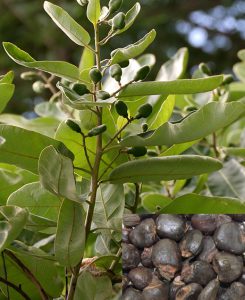 *****