Marula tree (Jelly plum)
Sclerocarya birrea (A.Rich.) Hochst. (Anacardiaceae)
Synonym : Poupartia birrea (A.Rich.) Aubrév.
Vernacular name : Marula, Jelly plum, Cat thorn, Morula, Cider tree, Marula, Maroola plum (English); Maroela (Afrikaans).
Description : A medium-sized dioecious tree grows up to 18 m tall with single stem and wide spreading crown; bark grey mottled, irregularly spotted and freckled; leaves compound, consisting 7-10 paired leaflets; both male and female flowers dark red, bloom into spiky, delicate flowers of pink, lilac and white; fruits oblong size; ripen fruits have light yellow skin with white flesh; seeds brown and hard walled; flowering season September to November; fruiting season December to March.
Distribution : Indigenous to sub-Saharan Africa, Southern Africa, West Africa, and Madagascar.
Parts used : Fruits, bark.
Phytochemistry : Fruits contain vitamin C, amino acids, fatty acids (oleic acid, linoleic acid, alpha-linolenic acid, palmitic acid, stearic acid and arachidonic acid), minerals (Mg, Zn, P, Cu and Fe); fruit nuts contain proteins; bark contains tannin, epicatechin 3-O-gallate, quercetin, myricetin 3-O-α-L-rhamnopyranoside, quercetin 3-O-arabinoside and kaempferol pentoside.
Uses : Fruits edible, rich source of vitamin C; used to make Amarula (cream liqueur); fruits also cooked to produce jam, juices and alcoholic beverages (beer); marula oil used in cosmetics; bark used in dysentery, diarrhoea, rheumatism, and insect bites, also used in malaria prophylaxis, intestinal disorders, and indigestion; leaves used for abscesses, spider bites and burns.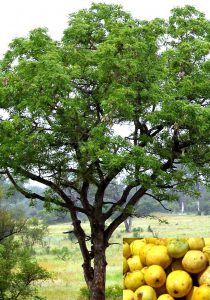 *****