Neem (Margoes tree)
Azadirachta indica A.Juss. (Meliaceae)

Synonym : Melia azadirachta L.

Vernacular Name : Nimbah, Prabhadrah (Sanskrit); Neem tree, Margoes tree, India lilac (English); Nim (Hindi).
Description : A medium to large sized tree, 15-20 m in height with a clear bole of 7.0 m having grayish to dark grey tubercled bark; leaves compund imparipinnate, leaflets, subopposite, serrate, very oblique at base; flowers cream or yellowish white in axillary panicles, stamina tubes conspicuous, cylindric, widening above, 9-10 lobed at the apex; fruits one-seeded drupes with woody endocarp greenish yellow when ripe, seeds ellipsoid, cotyledons thick, fleshy and oily.
Distribution : Native to India and the Indian subcontinent including Nepal, Pakistan, Bangladesh, Mauritius and Sri Lanka; typically grown in tropical and semi-tropical regions.
Part Used : Bark, leaves, flowers, seeds.
Phytochemistry : Stem bark contains tannins; leaves contain nimbin, nimbinene, 6-desacetylnimbinene, nimbandiol, nimbolide, quercetin, β-sitosterol, n-hexacosanol and nonacosane; thiamine, niacin, carotene and amino acids (glutamic acid, tyrosine, aspartic acid alanine, proline, and glutamine); fruits contain gedunin, 7-deacetoxy-7α-hydroxy gedunin, azadiradioe, azadirone, 17β-hydroxy-azadiradione, 17-epiazadiradione and nimbiol.
Used : Bark is useful in malarial fever, wounds, ulcer, burning sensation, tumour, tubercular glands, anoresia, vomiting dyspepsia, intestinal worms, hepatopathy, cough, bronchitis, urorrhea, diabetes, inflammation, amenorrhoea, lumbago, haemorrhoids, otalgia, syphilis and fatigue; leaves are useful in leprosy, skin diseases, leucoderma, pruritus, ophthalmopathy, intestinal worms, dyspepsia, ulcers, tuberculosis, boils, eczema and malarial and intermittent fevers.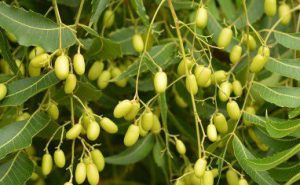 *****