Pala indigo plant (Dudhi)
Wrightia tinctoria R.Br.
Vernacular Name : Pala indigo plant (English); Mitaindrajau, Dudhi (Hindi); Svetakutajah (Sanskrit).
Description : A small deciduous tree, upto 10 m in height with pale grey, smooth, thin bark abounding in yellow milky with opposite divaricate branches; leaves simple, opposite, elliptic-ovate or obovate oblong, acuminate, glabrous, main nerves 6-12 pairs; flowers white, fragrant, in lax teminal cymes; fruits follicles in pairs, pendulous, cylindrical, tips adhering at fruit; seeds linear, pointed at the apex with a deciduous coma.
Distribution : Found in India, Southeast Asia and Australia.
Parts Used : Leaves, bark and seeds.
Phytochemistry : The plant contains wrightial, cycloartenone, cycloeucalenol, beta-amyrin, and beta-sitosterol.
Uses : Bark is useful in treatment of diarrhoea, piles, ringworm and other skin diseases; seeds also have anti-dysenteric properties; used as astringents, anti-helminthics, aphrodisiacs and to reduce fever; bark and seeds are used to treat flatulence; root bark extract is used orally as an antidote for snakebite; powder of the bark is also used for treatment of kidney stones.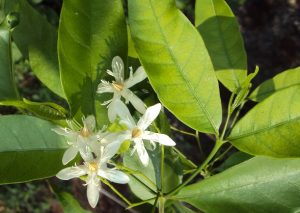 *****