Papaya (Papeeta)
Carica papaya L. (Caricaceae)
Synonym : Carica cubensis Solms
Vernacular Name : Papaya tree, Melon tree (English); Papeeta (Hindi).
Description : A small, sparsely branched tree, with a single stem growing from 5-10 m tall; leaves spirally arranged, confined to the top of the trunk; large, 50–70 cm in diameter, deeply palmately lobed, seven lobes; flowers 5-parted and highly dimorphic; male flowers with the stamens fused to the petals; female flowers have a superior ovary, five contorted petals loosely connected at the base, borne in the leaf axils; flowers sweet-scented, open at night; fruit large berry 15–45 cm long and 10–30 cm in diameter, green when unripe, yellow when ripe.
Distribution :  Native to the Central America; cultivated throughout tropical and subtropical regions of the world.
Part Used : Fruits, leaves.
Phytochemistry : Unripe fruit contains papain, chymopapain, caricain, and glycine endopeptidase; seeds contain prunasin; fruit pulp contains beta carotene, polyphenols, benzyl isothiocyanates and benzyl glucosinates.
Uses : Leaves are believed to increase platelet count in dengue patients; also used in the malarial fever; leaves and unripe fruits are used as anti-diabetic, birth control agent, antiseptic, antimicrobial, diuretic, antiparasitic, anti-inflammatory, blood pressure and cholesterol lowering agent; latex is used in dyspepsia and external burns and scalds.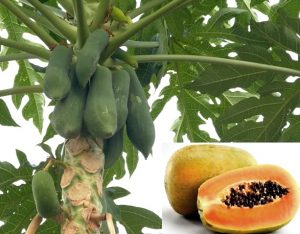 *****