Plantain tree (Banana)
Musa × paradisiaca L. (Musaceae)
Synonym : Karkandela × malabarica Raf.
Vernacular Name : Plantain tree, Banana (English), Kadali (Sanskrit), Kela (Hindi).
Description : Plant is the hybrid between Musa acuminata and Musa balbisiana; a tall herb (2-9 m tall when mature) with aerial pseudo stem dying after flowering, each pseudo stem can produce a single flowering stem; leaves oblong, narrowed to base; flowers unisexual in spikes, bracts conspicuous, dull brown, falling off in succession; fruits berries in several clusters, golden yellow colour on ripening.
Distribution : Distributed widely throughout the tropical and subtropical countries; mainly cultivated in India, Philippines, China, Ecuador, Brazil, Indonesia, Mexico, Costa Rica, Colombia, and Thailand.
Part Used : Roots, leaves, fruits, stem.
Phytochemistry : Various parts of the plant contain carbohydrates, catecholamines (norepinephrine, serotonin, dopamine), tryptophan, and indole compounds; unripe fruit pulp contains pectin, leucocyanidin, quercetin and its 3-O-galactoside, 3-O-glucoside, and 3-O-rhamnosyl glucoside; ripe fruit pulp contains serotonin, nor-epinephrine, tryptophan, indole compounds, tannin, starch, iron, sugars, vitamin C, B, albuminoids, fats, mineral salts, sitoindoside-I-IV, sitosterol gentiobioside, sitosterol myo-inosityl-beta-D-glucoside, cyclomusalenol, cyclomusalenone, 24-methylenecycloartanol, stigmast-7-methylenecycloartanol, stigmast-7-en-3-ol, lanosterol and amyrin, 3-epicycloeucalenol, 3-epicyclomusalenol, 24-methylenepollinastanone, and 28-norcyclomusalenone; flowers contain 24-oxo-29-norcycloartanone, 1,1-dimethylallyl alcohol, syringin, (6S,9R)-roseoside, benzyl alcohol glucoside, (24R)-4alpha,14 alpha,24-trimethyl-sacholesta-8,25(27)-dien-3beta-ol.
Uses : Ripe fruits are edible; unripe fruits are used in diarrhea, dysentery, intestinal lesions in ulcerative colitis, diabetes, sprue, uremia, nephritis, gout, hypertension, and cardiac diseases; fruits also used in the treatment of excess menstruation with Canna indica L. var. speciose; leaves are used in eczema, as cool dressings for blister and burns; flowers are used in dysentery, diabetes and menorrhagia; stem juice of fruited plant is used for treating diarrhoea, dysentery, cholera, otalgia, and haemoptysis; root is anthelmintic, used in blood disorders, venereal diseases, inflammation, pain and snakebite.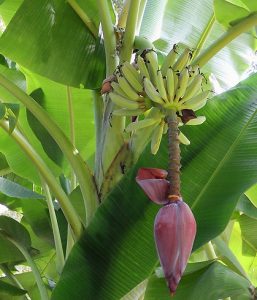 *****