Pomegranate (Anar)
Punica granatum L. (Lythraceae)

Synonym : Punica florida Salisb.
Vernacular Name : Dadima (Sanskrit); Pomegranate (English); Anar (Hindi).
Description : Shurb to small tree to up to 6 m high; leaves mostly opposite, short-petiolate, blades oblong-elliptical up to 8 cm long; flowers showy and up to 6 cm board, bisexual, 5-8 petals, reddish and up to 2.5 cm long, numerous stamens surrounding a conspicuous hypanthial tube, the flowers usually occurring terminally or in axils; fruit a red spherical berry; flowers available during the summer.
Distribution : Native to Iran; widely cultivated throughout the Middle East and Caucasus region, North and Tropical Africa, Indian subcontinent, Central Asia, the drier parts of southeast Asia, and parts of the Mediterranean Basin; introduced into Spanish America and California.
Part Used : Seeds, leaves, roots, stem bark, flowers.
Phytochemistry : Apigenin glucoside, betulinic acid, callistephin, tannins, chrysanthemin, coniine, coumestrol, cyaniding and its diglucoside, cyanin, diadzein, diadzin, delphin, delphinidin and its glucosides, ellagic acid and its derivative, estrone, freidelin, gallic acid, genistein, genistin, lipids, hygrine and norhygrine, luteolin glycosides, mannitol, pelargonin, pelletierine and its derivative, piperidine derivatives, polyphenols, sedridine, xanthoxylin and estradiol.
Uses : Decoction of the seed is used to treat syphilis; juice of the fruit is used to treat jaundice and diarrhoes; rind of the fruit is ground in water and drunk every morning by diabetics; fruit for common cold; juice of the flowers is used to treat nose bleeds; fruit pulp and seed are a stomachic; root and stem bark have astringent and anthelmintic properties; decoction of leaves used in cuts and wounds; leaves decoction taken with milk is useful in sleeplessness; leaves paste also used in piles/ hemorrhoids.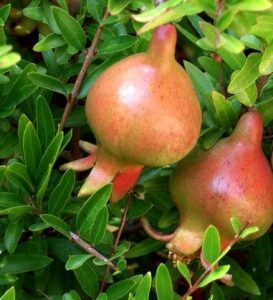 *****