Prickly chaff flower (Apamarga).
Achyranthes aspera L. (Amaranthaceae)
Synonym : Centrostachys indica (L.) Standl.
Vernacular Name : Prickly chaff flower (English); Chirchria, Latjira (Hindi); Apamarga (Sanskrit).
Description : Herbaceous plant about 1-2 m high; stem erect, pubescent, swollen at the nodes; Leaves opposite, simple and ovate, up to 10 cm long by 8 cm wide, tapering to a point at both ends and shortly stalked, the blades entire; flowers numerous, stiffly deflected against the  pubescent rachis in elongate terminal spike, 20-30 cm long; urticle oblong-cylindrical, enclosed in the hardened perianth, brown; seeds obeying-ovoid.
Distribution : Distributed throughout the tropical world mainly South-East Asia and Africa.
Part Used : Whole plant.
Phytochemistry: Plant contains ecdysterone, betaine, achyranthine, ecdysterone, oleanolic acid, pentatriaontane, 6-pentatriacontanone, hexatriacontane and tritriacontane.
Medicinal uses : Used as anti-inflammatory, uterine stimulant; root paste applied to clear opacity of cornea and wound healing; roots effective in cancer, stomach troubles, stones in gall bladder; plant used for abortion, induction of labor and cessation of postpartum bleeding; also used to treat malaria fever.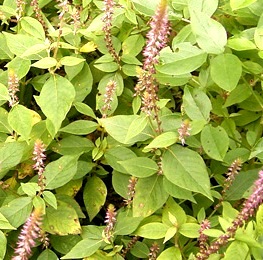 *****