Quercetin
Quercetin
IUPAC name : 2-(3,4-dihydroxyphenyl)-3,5,7-trihydroxy-4H-chromen-4-one
Chemistry : Quercetin (C15H10O7) is a common plant-derived yellow flavonoidal pigment and a well-known ingredient in food supplements and beverages due to its antioxidant effect. It is also known as 3,3′,4′,5,7-penthydroxyflavone, meletin and 5,7,3′,4′-flavon-3-ol. It is insoluble in water; soluble in organic solvents and aqueous alkaline solutions. Biosynthetically, it is forms by phenylalanine which is first converted to 4-coumaroyl-CoA and after reacting with malonyl-CoA to form tetrahydroxychalcone in presence of 7,2′-dihydroxy-4′-methoxyisoflavanol synthase. In presence of chalcone isomerase, tetrahydroxychalcone is converted into naringenin which forms eriodictyol using flavanoid 3′-hydroxylase. Eriodictyol when reacts with flavanone 3-hydroxylase to form dihydroquercetin, which finally forms quercetin in presence of flavonol synthase. Its molecular weight is 302.236 g/mol whereas melting point is recorded to 316 °C. Quercitrin (C21H20O11) is a glycoside formed from the quercetin.
Occurrence : It abundantly found in fruits, vegetables, leaves, and grains of many plants. It is one of the important ingredients of red wine, onion, green tea, apple, and berries. It occurrence in Quercus tinctoria, Allium fistulosum, Camellia sinensis, Moringa oleifera, Morus alba, Calamus scipionum, Brassica oleracea, Apium graveolens, Hypericum perforatum, Hypericum hircinum,Centella asiatica, Coriandrum sativum, Prunus avium, Vaccinium oxycoccus, Solanum lycopersicum, Malus domestica, Capparis spinose, Asparagus officinalis, Nasturtium officinale, Allium Cepa, and Lactuca sativa is well established.
Biological importance : Quercetin has been found effective in atherosclerosis, high cholesterol, heart disease, circulation problems, diabetes, cataracts, fever, peptic ulcer, schizophrenia, inflammation, asthma, gout, viral infections, chronic fatigue syndrome, cancer, and prostate infections.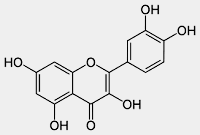 *****