Rosmarinic acid
Rosmarinic acid
IUPAC Name : (2R)-3-(3,4-dihydroxyphenyl)-2-[(E)-3-(3,4-dihydroxyphenyl)prop-2-enoyl]oxypropanoic acid.
Chemistry : Rosmarinic acid ((C18H16O8), a polyphenol is an ester of caffeic acid and 3,4-dihydroxyphenyllactic acid. It is a red-orange powder that is slightly soluble in water, but well soluble is most organic solvents including ethanol, DMSO and dimethyl formamide. The molecular weight of the compound is calculated to 360.318 g/mol and melting point recorded to 171-175 degree Centigrade. This compound is biosynthesized in Lamiaceae plants from l-phenylalanine and l-tyrosine.
Occurrence : It is mostly found in the members of Lamiaceae family, such as Plectranthus scutellarioides (L.) R.Br., Rosmarinus officinalis L., Ocimum basilicum L., Ocimum tenuiflorum L., Melissa officinalis L., Origanum majorana L., Salvia officinalis L., Thymus vulgaris L., Mentha × piperita L. and Prunella vulgaris L.
Biological importance : This compound is well known for its antioxidative and anti-inflammatory activities. In addition, it also showed anticancer activity against various cancer cell lines. It inhibits the 4-aminobutyrate transaminase, a GABA transaminase, and hence considered as a potential anxiolytic agent. It was also found to inhibit the expression of indoleamine 2,3-dioxygenase via its COX-inhibiting ability. An in vivo activity on mice revealed that this compound is effective against Japanese encephalitis. In plants, rosmarinic acid is supposed to act as a preformed constitutively accumulated defence compound.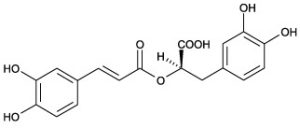 *****