Roxburgh's Wormwood
Artemisia roxburghiana Wall. Ex Besser (Compositae)
Synonym : Artemisia indica var. exilis Pamp.
Description :   A perennial herb of 20-50 cm height with creeping rootstock; stem simple, purplish tinged; leaves deeply dissected woolly or nearly hairless, twice cut with linear pointed segments usually more than 2 mm broad, leaf blade ovate or oblong-elliptic; flower tiny purplish 3-4 mm across, borne in spikes occurring on branches and at their ends; petiole 1-2 cm; lobules lanceolate or linear-lanceolate; branches simple, to 4 cm, erect, rather uniform in length; bracts linear.

Distribution : Found in China, India, Nepal, Pakistan, Thailand and Afghanistan.
Parts used : Roots and aerial parts.
Phytochemistry : Aerial parts contain essential oil (1,8-cineole, camphor, alpha-thujone, sabinaketone, borneol, linalyl acetate, alpha-humulene, beta-caryophyllene and eugenol); leaves contain 11-epi-8-alpha-hydroxyarborescin, (24R)- and (24S)-cycloart-25-en-3b,24-diols, palmitic acid, 1-octacosanol, betulinic acid, betulin and taraxeryl acetate.
Uses : Decoction of aerial parts is used to treat diabetes; leaves poultice used in inflammation, wounds and cuts.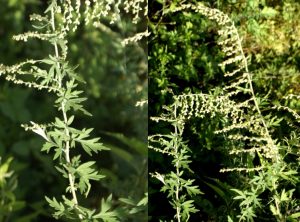 *****