Rudraksha (Utrasum bead tree)
Elaeocarpus serratus L. (Elaeocarpaceae)
Synonym : Elaeocarpus ganitrus Roxb. ex G.Don
Vernacular Name : Rudraksha (Hindi/ Sanskrit); Utrasum bead tree (English).
Description : A large evergreen tree, grows up to 50-200 feet; stem cylindrical with coarse textured dirty white bark; leaf pyramidal shape; flower white with fringed petals; beads are enclosed by an outer shell of blue colour on fully ripening; seeds sweet in taste, colour brownish.
Distribution : Native to India, Nepal, Bhutan, Bangladesh, Philippines, Manila, Myanmar; distributed to South-East Asia, Indonesia, New Guinea to Australia, Guam, and Hawaii.
Part Used : Seeds
Phytochemistry : Seeds contain elaeocarpidine, isoelaeocarpine, epiisoelaeocarpiline, rudrakine, alloelaeocarpiline, epielaeocarpiline, pseudo-epiisoelaeocarpilline, quercetin,  gallic acid and ellagic acid.
Use : Seeds are well-reputed for their use in the prayer of Hinduism and Buddhism; decoction of seed powder is used in high blood pressure, diabetes, fever, chicken pox, small pox, tuberculosis, chronic cough, asthma, sciatica, heart diseases, memory loss, and cancer.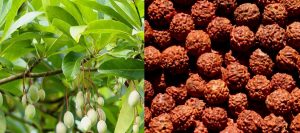 *****