Sausage tree (Balam kheera)
Kigelia africana (Lam.) Benth. (Bignoniaceae)
Synonym : Kigelia pinnata DC.
Vernacular Name : Sausage tree (English); Balam kheera, Hathi bailan (Hindi).
Description : A tree growing up to 20 m tall with grey bark which is smooth at first but peeling on older trees; wood is pale brown or yellowish, undifferentiated and not prone to cracking; fruits are huge and cylindrical in shape up to 0.6 m in length and 4 kg in weight.
Distribution : Native to Africa; cultivated in various other tropical countries; as an ornamental tree in Australia, USA and many parts of Southeast Asia.
Part used : Fruits
Phytochemistry : Fruits contain  kigelin, pinnatal, isopinnatal, norviburtinal, β-sitosterol, 3-(2′-hydroxyethyl)-5-(2″-hydroxypropyl)-dihydrofuran-2(3H)-one, 7-hydroxy  viteoid II, 7-hydroxyeucommic acid, 7-hydroxy-10-deoxyeucommiol, 10-deoxyeucommiol, jiofuran,  jioglutolide, 1-dehydroxy-3,4-dihydroaucubigenin, des-p-hydroxybenzoyl kisasagenol B, ajugol, verminoside, 6-transcaffeoyl ajugol, 6-p-coumaroyl-sucrose and fatty acids (arachidic, arachidonic, azelaic, azelaic, caprylic, elaidic, linoleic, linolenic, oleic, palmitic, stearic, undecanoic and 1-methylpropyl formic acids); roots contain norviburtinal, pinnatal, stigmasterol and lapachol; bark contains kigelin, specioside, verminoside, minecoside, β-sitosterol,  3-dimethyl kigelin and ferulic acid.
Uses : Fruit used for skin diseases, microbial infections, hepatic diseases boils, psoriasis, eczema, leprosy, syphilis, cancer, ulcers, dysentery, post-partum haemorrhage, malaria, diabetes, pneumonia, constipation and general pains; dried powdered fruit used to increase the flow of milk in lactating women; baked fruits used to ferments beer and boiled ones yield a red dye; root is employed as a vermifuge and aid in the treatment of rheumatism and haemorrhoids.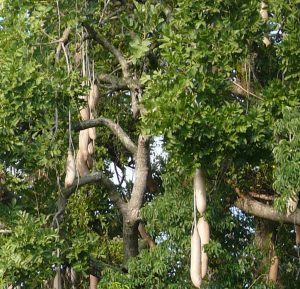 *****