Tubeflower (Bharangi)
Clerodendrum indicum (L.) Kuntze (Lamiaceae)
Synonym : Clerodendrum siphonanthus R.Br.
Vernacular Name : Tubeflower, Turk's-Turban, Sky Rocket, Bowing Lady (English); Bharangi (Hindi).
Description : A semideciduous, perennial plant with stems that are sometimes herbaceous but more often become woody, with the plant adopting the habit of a shrub or a small tree; growing from an aggressively suckering, stoloniferous rootstock, the plant can be up to 3 metres tall, the stems usually very straight or arching, mostly unbranched and hollow.
Distribution : Southern China, India, Sri Lanka, Nepal, Bangladesh, Myanmar, Thailand, Mauritius, Cambodia, Laos, Vietnam, Malaysia, and Indonesia.
Part Used : Whole plant.
Phytochemistry : Leaves contain scutellarein, hispidulin and their 7-O-glucuronides; flowers contain beta-sitosterol; bark contains hexitol, sorbitol, pectolinarin and oncinotine.
Uses : Leaves are used as a bitter tonic and vermifuge; dried leaves are smoked like cigarettes to relieve asthma; juice of the tender parts of the plant is used as an external application for skin complaints; pounded root, combined with ginger, is useful in asthma, coughs and other pulmonary complaints; resin extracted from the plant is used in the treatment of syphilitic rheumatism.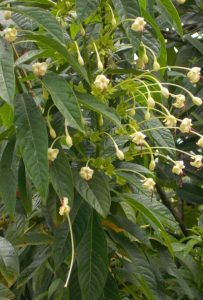 *****