Turmeric (Haldi)
Curcuma longa L. (Zingiberaceae)
Synonym : Curcuma domestica Valeton
Vernacular Name : Turmeric (English); Haldi (Hindi).
Description : A perennial herbaceous plant that reaches up to 1 m tall; highly branched, yellow to orange, cylindrical, aromatic rhizomes are found; leaves are alternate and arranged in two rows; divided into leaf sheath, petiole, and leaf blade; from the leaf sheaths, a false stem is formed; petiole is 50-115 cm long; simple leaf blades are usually 76-115 cm long and rarely up to 230 cm, width of 38-45 cm and are oblong to elliptic, narrowing at the tip.
Distribution : Native to southern Asia; cultivated throughout the world.
Part Used : Rhizomes.
Phytochemistry : Rhizomes contain curcuminoids (curcumin, desmethoxycurcumin, and bisdemethoxycurcumin); volatile oil (turmerone, atlantone, and zingiberene); sugars, proteins, and resins.
Uses : Rhizomes are used to treat a variety of internal disorders, such as indigestion, throat infections, common colds, or liver ailments, as well as topically to cleanse wounds or treat skin sores.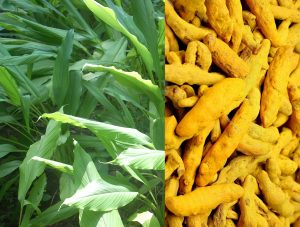 *****