Waterhyssop (Brahmi)
Bacopa monnieri (L.) Wettst. (Plantaginaceae)
Synonym : Bramia indica Lam.
Vernacular name : Waterhyssop, Indian pennywort (English); Brahmi (Hindi/ Sanskrit).
Description : A perennial, creeping, non-aromatic herb; leaves succulent, oblong and 4-6 mm thick, oblanceolate, arranged oppositely on the stem; flowers small, actinomorphic and white, with 4-5 petals; calyx-lobes 5, unequal; corolla bluish-white, 8 mm long, broadly campanulate, faintly 2-lipped; lobes 5, subequal; stamens 4, didynamous; ovary oblong-globose; style slightly deflexed; capsule 3 x 2 mm, ovoid or oblong, enclosed in calyx; seeds 0.5 mm long, oblong, reticulate.
Distribution : Native to India, Nepal, Sri Lanka, China, Pakistan, Taiwan, and Vietnam; also found in some parts of Australia, Europe, Africa and America.
Part used : Whole plant.
Phytochemistry : Herb contains bacoside A and B, bacopaside-I and II, bacosterols, bacosine, bacogenin A1, A2 and A3, brahmine, nicotine, luteolin, apigenin, quercetin, hersaponin, herpestine, and beta-sitosterol glucoside.
Uses : Herb is used in the treatment of epilepsy, asthma, ulcers, tumours, enlarged spleen, inflammation, leprosy, anaemia, and gastroenteritis; effective in mental disorders and memory enhancing; used as a brain tonic.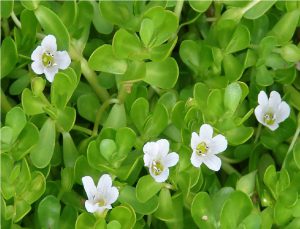 *****