Wild mango (Hogplum)
Spondias pinnata (L. f.) Kurz (Anacardiaceae)
Synonym : Mangifera pinnata L. f.
Vernacular Name : Wild mango, Hogplum (English); Amar, Jungli-aam (Hindi); Aamratak, Amwara (Sanskrit).
Description : A medium sized aromatic, deciduous tree, up to 27 m tall and 2.5 m in girth; leaves compound, crowded at the ends of branches, leaflets large having parallel nerves meeting in an intramarginal never; bark thick, surface light grey to greyish brown, shallowly furrowed or cracked longitudinally, brittle, their fracture splintery; flowers many, in terminal spreading panicles; fruits fleshy drupes with woody endocarp surrounded by longitudinal interwoven fibers, young fruits green in colour, turning light yellow or greenish yellow on ripening.
Distribution : Native to Malesia the Philippines and Indochina; cultivated and naturalized in Bhutan, China, India, Myanmar and Nepal.
Parts Used : Root, bark, leaves, fruits.
Phytochemistry : Fruits contain β-amyrin, oeanolic acid, glycine, cystine, serine, alanine and leucine; aerial parts contain lignoceric acid, β-sitosterol and its glucoside.
Uses : Roots useful in regulating menstruation; bark used in dysentery, diarrhoea, vomiting and muscular rheumatism; leaves used in dysentery and otalgia; ripe fruit effective as tonic, constipating and antiscorbutic, also useful in boilius dyspepsia and diarrhoea.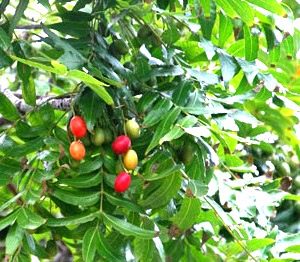 *****