Winter cherry (Asvagandha)
Withania somnifera (L.) Dunal (Solanaceae)
Synonym : Physalis somnifera L.
Vernacular Name : Winter cherry, Indian ginseng Indian ginseng (English); Asgandh (Hindi); Asvagandha, Varahakarni (Sanskrit).
Description : An erect branching undershrub reaching about 150 cm in height usually clothed with minutely stellate tomentum; leaves ovate up to 10 cm long; flowers greenish or lurid yellow in axillary fascicles; fruits globose berries which are orange coloured  when  mature enclosed in a persistent calyx; fleshy roots when dry are cylindrical, gradually tapering down with a brownish white surface and pure white inside when broken.
Distribution : Found in India, Nepal, China, Yaman, Israel and Mauritius.
Part Used : Roots, leaves.
Phytochemistry : Roots contain pyrazole alkaloids; withasomnine, steroldal lactones, withaferin A and withanolides; starch, reducing sugars, hentriacontane, glycosides, dulcitol and withaniol.
Uses : Tubers are useful in leucoderma, constipation, insomnia, tissue-building and nervous breakdown; leaves are bitter and are recommended in fever, painful swellings and ophthalmitis; paste of the roots and bruised leaves are applied to carbuncles, ulcer and painful swelling.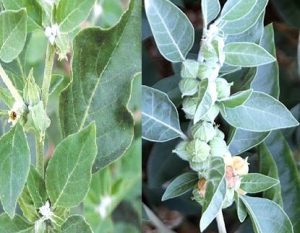 *****